Holy Ghost Church
Weekend Masses & Church Functions
NO MASS
In light of the Governor's recent decision to ban gatherings of over 250 people, the three bishops of Colorado have unanimously agreed to suspend the public celebration of Mass through the end of March.
Click here to watch a video message from the Archdiocese of Denver.
TEMPORARY DAILY SCHEDULE
Holy Ghost Church will be open 7 AM to 3:05 PM every day except Fridays (5 PM closure).
9 AM: Rosary
11 AM - 1 PM: Confessions (heard until 5 PM on Fridays)
Noon: Stations of the Cross
2 PM: Rosary
2:50 PM: Chaplet of Divine Mercy/Benediction
Triduum
 Holy Thursday, April 9, 2020
7 PM Mass of the Lord's Supper 
Good Friday, April 10, 2020
Noon Celebration of The Lord's Passion & Veneration of the Cross
Confessions following the Noon
Liturgy (until all confessions are heard)
Holy Saturday, April 11, 2020
No daytime Mass (Church is locked until 6:30 PM)
7:30 PM Easter Vigil
Easter Sunday April 12, 2020
Regular Mass Schedule:
7 AM, 8:30 AM, 10 AM (Latin Mass), Noon and 5:10 PM
No Confessions
PARKING LOT INSTRUCTIONS
Location: 19th & Welton
Spaces: 2 - 20, 65 - 102, & 152 - 171 only.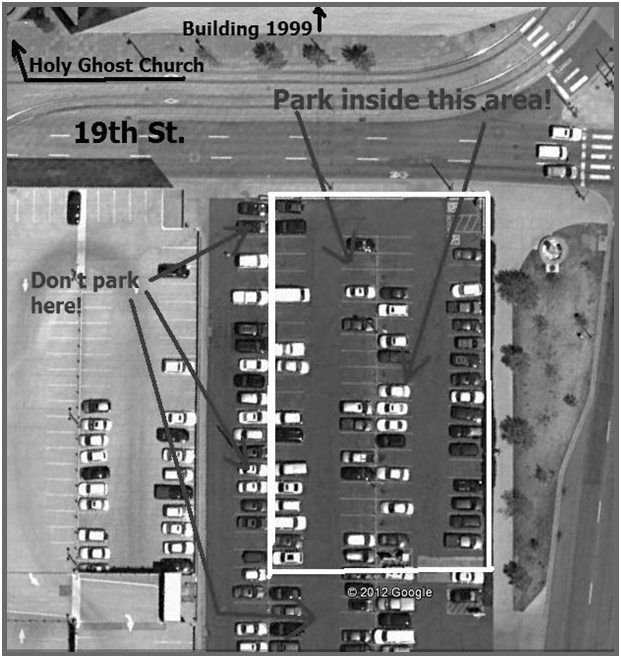 Parking privileges end on:
Saturday - 8:00pm
Sunday - 6:45pm
Go to the KIOSK and:
Touch any key on the key pad
Stall Number? Put in your stall number…PRESS OK
Kiosk will then ask you to choose time. Press#4 for Holy Ghost
…PRESS OK
Screen Prompts Enter Code…
Enter 1312 PRESS OK
Kiosk prints out dashboard ticket
Put the ticket inside your car face up on the dashboard!
For more information or to register for events, please contact the parish office: holyghostden@gmail.com or (303) 292-1556.
Small Faith Groups
Meet with parishioners in your area for fellowship and faith formation.
Contact the parish office for more information.
Mass and Confession Schedule
Sunday:
Mass:
7 AM
*8:30 AM
*10 AM (Latin choir)
*12 PM
*5:10 PM (Contemporary choir)
Confession:
*Confession 30 minutes before these Masses
Monday-Friday:
Mass:
Confession:
12 PM - 1 PM, Mon-Thurs
12 PM - 3 PM, Friday
12 PM - 5 PM, Fridays of Advent and Lent only
Saturday:
Mass:
Holy Days:
Mass:
Vigil 5:10 PM day before
7 AM
11:30 AM
12:15 PM
5:10 PM
Contact us to learn more and see how you can join our parish today.