Holy Ghost Church
Weekend Masses & Church Functions
PARKING LOT INSTRUCTIONS
Location: 19th & Welton
Spaces: 2 - 20, 65 - 102, & 152 - 171 only.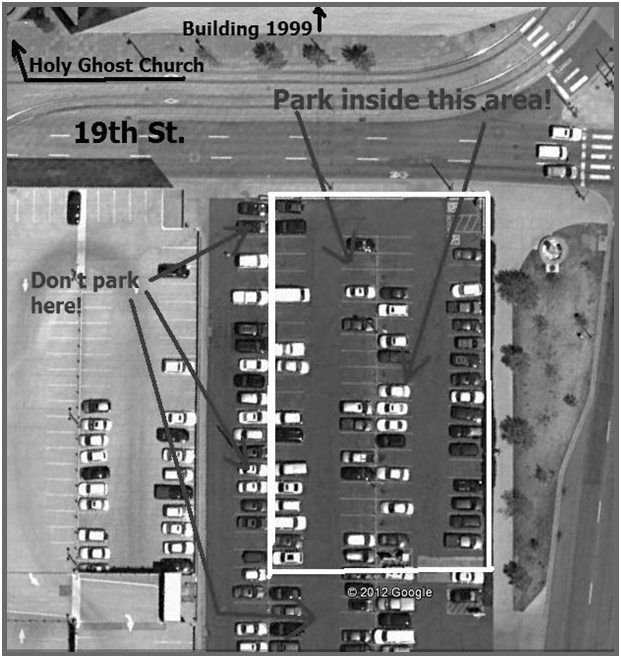 Parking privileges end on:
Saturday - 8:00pm
Sunday - 6:45pm
Go to the KIOSK and:
Touch any key on the key pad
Stall Number? Put in your stall number…PRESS OK
Kiosk will then ask you to choose time. Press#4 for Holy Ghost
…PRESS OK
Screen Prompts Enter Code…
Enter 1312 PRESS OK
Kiosk prints out dashboard ticket
Put the ticket inside your car on the
dashboard face up!

ALL SOULS DAY CHORAL MASS
Saturday, November 2 at 7:00 PM
On the Commemoration of all the Faithful Departed, come pray for your loved ones, whether they passed within the last year or many years ago.
---
For more information or to register for events, please contact the parish office: holyghostden@gmail.com or (303) 292-1556.
---
Overcoming Spiritual Discouragement: the Power and Spiritual Wisdom of Venerable Bruno Lanteri
A Seminar presented by Fr. Timothy Gallagher, OMV
October 26 & 27, 9 AM- 3 PM (both days) in the parish hall.
Cost: $50 for both days.
---
Presented by Sherry Waddell, author of Forming Intentional Disciples.
Saturday, November 23, 8:30 AM - 4:30 PM in the parish hall.
Cost: $60 (includes continental breakfast, lunch, and all materials)
---
Small Faith Groups
Meet with parishioners in your area for fellowship and faith formation.
Contact the parish office for more information.
Mass and Confession Schedule
Sunday:
Mass:
7 AM
*8:30 AM
*10 AM (Latin choir)
*12 PM
*5:10 PM (Contemporary choir)
Confession:
*30 minutes before these Masses
Monday-Friday:
Mass:
Confession:
12 PM - 1 PM, Mon-Thur
12 PM - 3 PM, Friday
12 PM - 5 PM, Fridays of Advent and Lent only
Saturday:
Mass:
Holy Days:
Mass:
Vigil 5:10 PM day before
7 AM
11:30 AM
12:15 PM
5:10 PM
Contact us to learn more and see how you can join our parish today.