Holy Ghost Church
Weekend Masses & Church Functions
Ash Wednesday Mass Schedule (February 26, 2020)
7 AM, 11:30 AM, 12:15 PM, and 5:10 PM
PARKING LOT INSTRUCTIONS
Location: 19th & Welton
Spaces: 2 - 20, 65 - 102, & 152 - 171 only.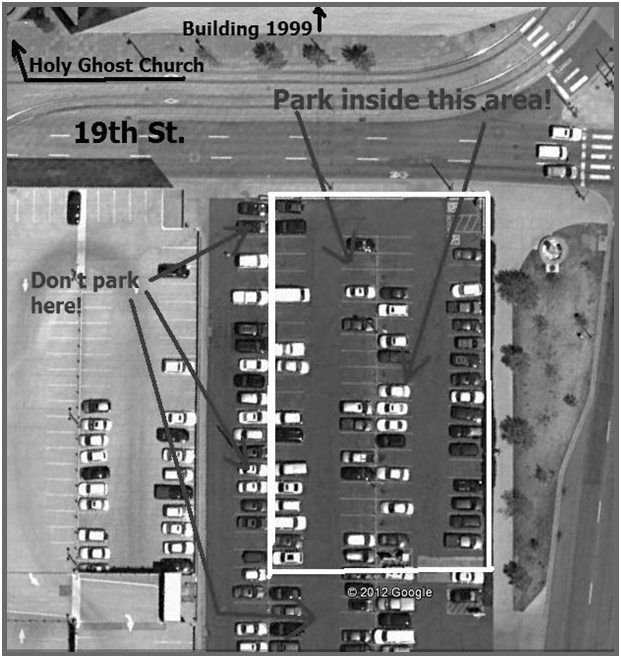 Parking privileges end on:
Saturday - 8:00pm
Sunday - 6:45pm
Go to the KIOSK and:
Touch any key on the key pad
Stall Number? Put in your stall number…PRESS OK
Kiosk will then ask you to choose time. Press#4 for Holy Ghost
…PRESS OK
Screen Prompts Enter Code…
Enter 1312 PRESS OK
Kiosk prints out dashboard ticket
Put the ticket inside your car face up on the dashboard!
For more information or to register for events, please contact the parish office: holyghostden@gmail.com or (303) 292-1556.
Ladies of Charity Spaghetti Dinner, Cake Walk, and Silent Auction
Save the date and plan now to attend! Saturday, February 22, 2020, 5-8 PM in the Parish Hall. $15 for adults, $5 for children under age 12
Bible Study
James: Pearls for Wise Living. Thursdays through March 26, 2020 at 6:30 PM in the Parish Hall. Cost: $25. Register in advance at the parish office. For more information, please contact Br. Nathan at nmarzonie@omvusa.org.
Retreat Day: St. Therese of Lisieux: A Holiness of Accessible to All - Daily Sanctity Viewed through the Letters of St. Therese of Lisieux
Saturday, April 4, 2020, 9 AM - 3 PM.  This retreat day will explore the call to holiness in daily life through the interactions with others as shown in St. Therese's letters, primarily to her aunt and uncle, cousins, and sisters. In ordinary activities common to us all, she lived a life of heroic holiness. The day will consist of Mass, talks by Father Gallagher, quiet times of prayer, and of course conversation on the theme. All are welcome!
Cost: $40 before March 23, $50 after March 23, half price for religious, missionaries, or religious communities
Small Faith Groups
Meet with parishioners in your area for fellowship and faith formation.
Contact the parish office for more information.
Mass and Confession Schedule
Sunday:
Mass:
7 AM
*8:30 AM
*10 AM (Latin choir)
*12 PM
*5:10 PM (Contemporary choir)
Confession:
*Confession 30 minutes before these Masses
Monday-Friday:
Mass:
Confession:
12 PM - 1 PM, Mon-Thurs
12 PM - 3 PM, Friday
12 PM - 5 PM, Fridays of Advent and Lent only
Saturday:
Mass:
Holy Days:
Mass:
Vigil 5:10 PM day before
7 AM
11:30 AM
12:15 PM
5:10 PM
Contact us to learn more and see how you can join our parish today.