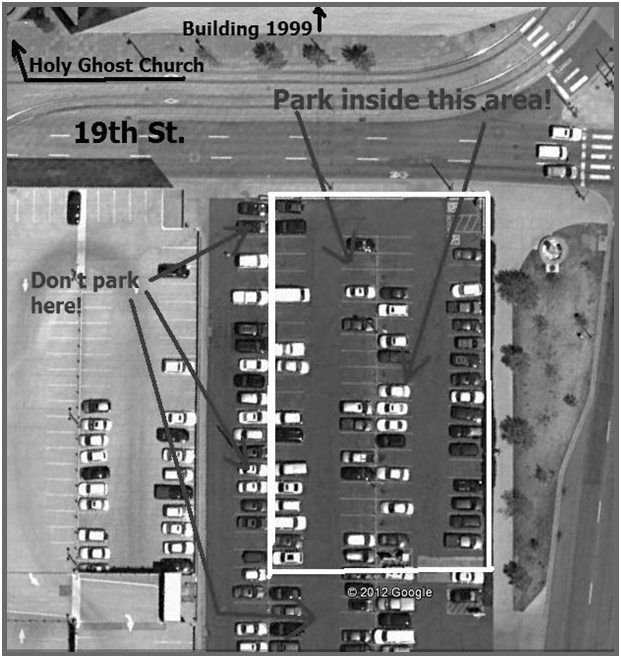 Holy Ghost Church
Weekend Masses & Church Functions
PARKING LOT INSTRUCTIONS
Location: 19th & Welton
Spaces: 2 - 20, 65 - 102, & 152 - 171 only.
Parking privileges end on:
Saturday - 8:00pm
Sunday - 6:45pm
Go to the KIOSK and:
Touch any key on the key pad
Stall Number? Put in your stall number…PRESS OK
Kiosk will then ask you to choose time. Press#4 for Holy Ghost
…PRESS OK
Screen Prompts Enter Code…
Enter 1312 PRESS OK
Kiosk prints out dashboard ticket -
Put the ticket inside your car on the
dashboard face up!
Mass Schedule and
Confession Times
Weekday Masses: Monday to Friday 7 AM and 11:30 AM, with confessions after 11:30 AM mass. Confessions will also be heard from noon to 5 PM every Friday during lent and advent.
Saturday Mass: 8 AM, *Vigil at 4 PM
Sunday Mass: 7 AM, *8:30 AM, *10 AM (Latin Choral)
*Noon, *5:10 PM (contemporary choir)
*Confessions 30 minutes prior to these masses
Holy Days - Vigil Mass 5:10, Mass: 7 11:30 12:15 5:10
Contact us to learn more and see how you can join our parish today.