Social Ministry Services We Provide
Referrals only available for: food banks, food lines, shelters, mental health assistance, clothing banks, medical services, and showers.
We do NOT provide: gas vouchers, rent assistance, bus tokens/passes, $ for travel, food baskets or motel vouchers.
In addition to limited material assistance, we provide clients with guidance, support, and referrals in order to meet a wider range of client needs more effectively.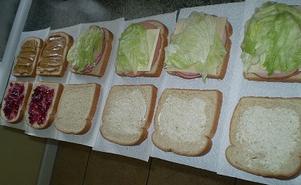 Sandwich Line: Mon - Sat 10 - 10:30 AM
Social Ministry Donations
Currently, we gratefully accept items for both men and women, including personal care items, toiletries, new hats, socks, gloves, some snack items (enough to serve at least 150) to be served in the sandwich line, and financial contributions.
If a group would like to donate pre-made sandwiches or snacks for our sandwich line, please call first
(303) 297-3441.
Thank You!
Do you want to read the Bible but don't know where to begin? Or take a new look at Scripture, and go deeper with what you already know? Then our next Bible Study class is for you! Call the Parish Office for more details.
Current Bible Study
September 19 - November 21, 2019
THE EUCHARIST
Presented by Dr. Brant Pitre, this Bible Study class began September 19 and continues until November 21. In this 10-session study, Dr. Pitre is guiding us through Scripture, history and Church teaching to illuminate the wonder and miracle of the Eucharist.
Thursday evenings 6:30-8:30 PM in the Parish Hall. Call the parish office at 303-292-1556 to register, or simply show up!. Cost: $25 (scholarships are available)
Friday Morning Mens Group
Breakfast starts each Friday at 5:45 AM, and a presentation will begin at 6 AM.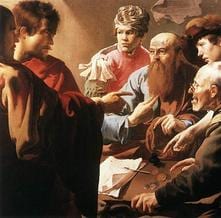 The Holy Ghost Respect Life Ministry organizes pro-life activities with the parish. For more information, please contact us at hgprolife@gmail.com